WEBSITE SECURITY
THE WAY IT SHOULD BE
SharkGate shifts cyber protection to a situation where an attack on one site enables a global immunity to be immediately developed to protect all sites in the network from similar attacks.It's an interconnected fortress where every assault only tightens the security for everyone. It's powerful solution, revolutionizing the very concept of firewall protection. With SharkGate, your website is using an ever-learning, ever-evolving network of defense, strengthening your security with each passing moment
SEE THE SHARKGATE VIDEO FOR MORE DETAILS
It's not just about protection, it's about peace of mind. Knowing that you're not alone, that your site is protected by a global shield that grows more formidable with each passing second.
Experience unparalleled security and peace of mind with SharkGate's industry-leading malware protection – sign up now to safeguard your website and join our growing community of satisfied customers.
Free Trial
Try SharkGate

Stay ahead of bot attacks with our monthly updated protection, blocking thousands of attacks daily with our free version. Benefit from unmetered DDoS protection and experience a potential website speed increase of up to 70%

✓

Complete onboarding and setup available, free-of-charge

✓

24/7 Customer Support

✓

Increase website speed up to 70%

✓

Block Bad Bots

✗

Block Hackers

✗

Security Audit & Recommendations

✗

Site Uptime Monitoring

✗

Real-time firewall rule updates

✗

SharkGate Malware Scanner

✗

Cleanup if Any Malware is found on your website

✗

Advanced DDoS Protection
Professional Plan
SafeGuard Your Site

Building on all Starter Plan features, we enhance protection with SharkGate's advanced AI for superior hacker blocking. Security is further reinforced with automated audits, tailored recommendations, weekly rule updates, plus site uptime monitoring and alerts.

✓

Complete onboarding and setup available, free-of-charge

✓

24/7 Customer Support

✓

Increase website speed up to 70%

✓

Block Bad Bots

✓

Block Hackers

✓

Security Audit & Recommendations

✓

Site Uptime Monitoring

✗

Real-time firewall rule updates

✗

SharkGate Malware Scanner

✗

Cleanup if Any Malware is found on your website

✗

Advanced DDoS Protection
Business Protect+ Plan
The COMPLETE Solution

Experience unparalleled security with our highest level of protection, featuring real-time rule updates. Plus peace of mind through malware monitoring of your site, complemented by unlimited malware removal should any viruses ever be detected

✓

Complete onboarding and setup available, free-of-charge

✓

24/7 Customer Support

✓

Increase website speed up to 70%

✓

Block Bad Bots

✓

Block Hackers

✓

Security Audit & Recommendations

✓

Site Uptime Monitoring

✓

Real-time firewall rule updates

✓

Monthly Malware Scan of your site

✓

Cleanup if Any Malware is found on your website

✓

Advanced DDoS Protection
RECOMMENDED BY LEADING HOSTING COMPANIES
Our firewall is currently protecting a vast number of business websites across four continents. The following is a small subset of the hosting companies that host websites we are protecting. A rapidly growing number of them recommend our service to their customers to keep their websites clean.

THE 3 PILLARS OF DEFENSE
The SharkGate Ecosystem protects websites against current and next-generation cyber threats using 3 core components. These core components are the SharkGate Plugin, SharkGate Website Threat Defence Database ("WTDD") and the SharkGate AI ("Deep Sea"). This Ecosystem provides the solution to protect websites against current and next-generation threats.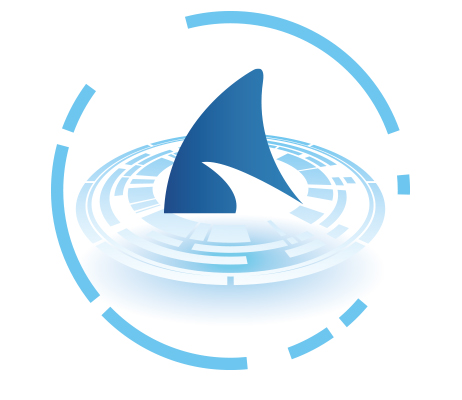 SharkGate Firewall & Plugin
Provides unrivalled hacker protection as well as a vulnerability scanner. Powered using the collective intelligence of the SharkGate AI ("Deep Sea") and the SharkGate Website Threat Defence Database ("WTDD"). Embracing the future of the internet and jumping ahead of all existing players in the industry by utilising the latest technological advances to remove the fundamental pain points of existing firewall services (endpoint, WAF reverse proxies, etc.) and creating the latest generation of firewall protection.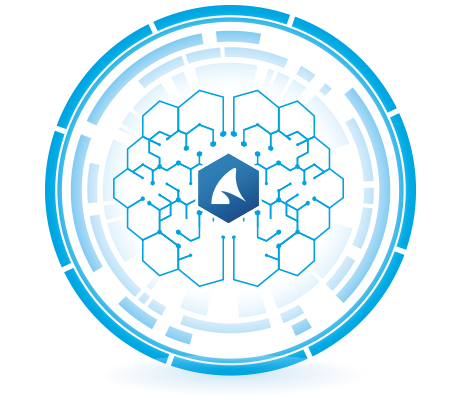 SharkGate's AI ("Deep Sea")
Coordinates the memory of each attack encountered on any site worldwide and thus enables any site on the SharkGate network to mount a strong response if the attack is attempted again. Using techniques based on the human immune system it creates 'adaptive' rules that evolve as an adaptation to threats received and prepares for future similar, but yet unseen, attacks.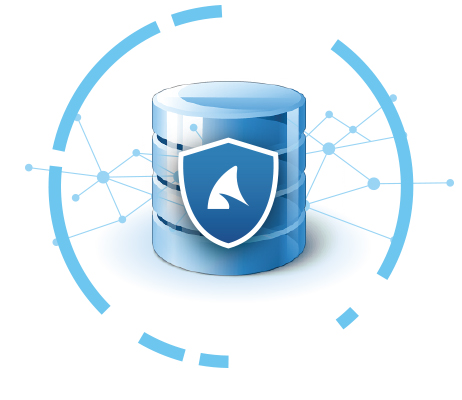 Website Threat Defence Database ("WTDD")
SharkGate's threat intelligence store. It grows and becomes more intelligent with every site that joins the network and as more existing threat data feeds and data providers contribute to the ecosystem. We expect the WTDD to eventually become the World's largest repository of threat intelligence for website cybersecurity.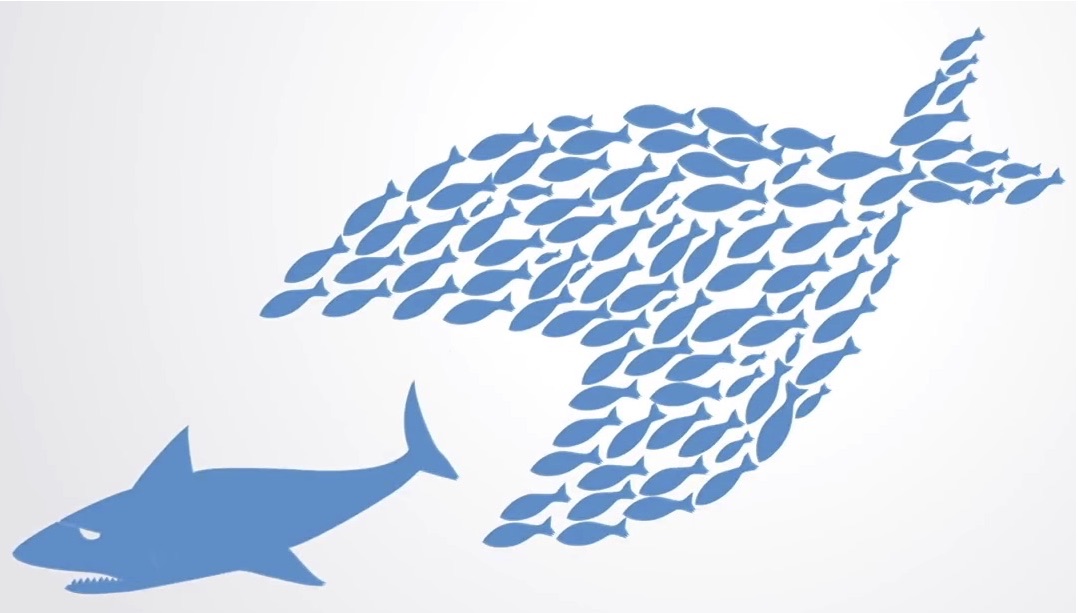 World's largest threat intelligence feed
SharkGate is creating one of the World's largest threat intelligence feeds. The Website Threat Defence Database (WTDD) is a cybersecurity threat intelligence store. It becomes more intelligent and robust with each website that joins the network and as more threat data providers join the ecosystem.
For paying subscribers our data feed provide data such as Firewall Rules, Malicious IPs, Hacker Fingerprints (agents, referrers, networks, etc.), Hacker Payloads, Spam Visitors, Malicious File Updates (attack shells, file upload scripts, cryptominers, etc.), Infected Plugins and Infected Themes
The data stored in the WTDD is available for security organizations to be utilized in their products and services as a paid monthly subscription. The data is served programmatically via APIs conforming to industry standard formats (JSON, etc.) and a set of SDK's. We are also generating a monthly report from the data, which anyone can subscribe to, also as a monthly paid subscription.
An ounce of prevention is worth a pound of cure"
"It is truly maddening to see examples of bad guys sharing data, tricks, methods and good guys having no effective way of doing it."
SharkGate Dashboard
Watch your hacker website protection in action – In real time!
We are proud of our Cloud-Based hacker firewall protection, so we have built a dashboard to let all our customers see it live in action protecting their websites. The SharkGate™ dashboard is really easy to understand and you can login 24×7 to see real-time data on what SharkGate is doing to continuously protect your website.
The SharkGate™ dashboard shows you all the attacks on your website that SharkGate™ has blocked and which countries those attacks have come from. Be warned though, our customers tell us that looking at the dashboard can become addictive because it also includes other handy stuff such as visitor numbers by day by country.
The dashboard is integrated with SharkGate's A.I security engine to offer simple to use features that allow you to increase the security of your website. For example it offers recommendations that you can auto apply with just one click. Simple and easy protection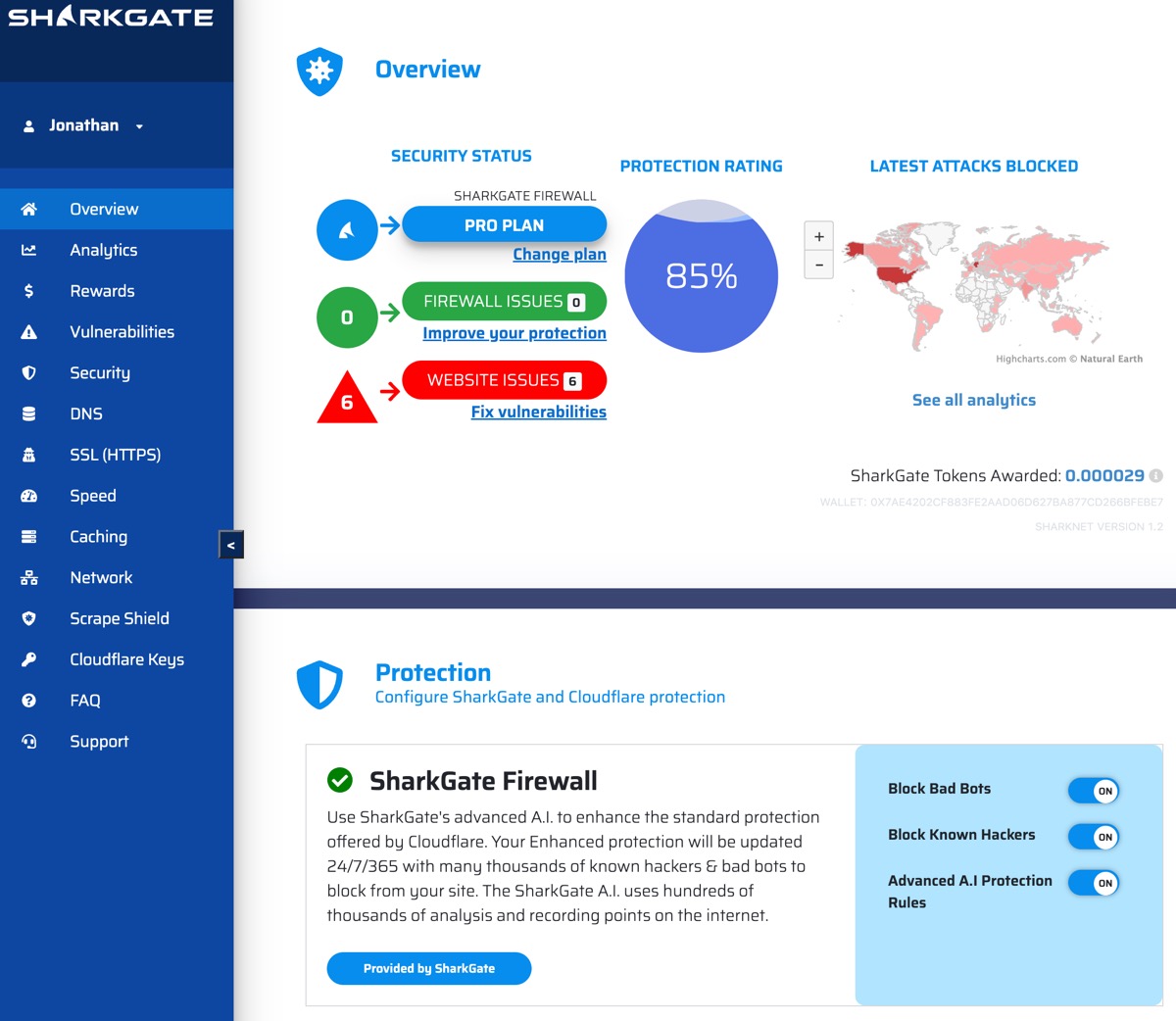 Security Recommendations For Your Site
Revolutionize your web security with SharkGate's intelligent analysis feature. We've turned the often-complicated realm of firewall settings, HTTPS and SSL levels into a breeze. Our advanced algorithms dissect your website's security setup, providing straightforward recommendations to enhance your protection. But it doesn't stop at advice; SharkGate offers one-click solutions that automatically implement these fixes, freeing you from the complexities of web security.
At SharkGate, we believe your focus should remain where it belongs—on your business. We shoulder the burden of cybersecurity so you don't have to. With us, there's no need to moonlight as a security expert. Let our dedicated team of professionals keep your business site fortified against malicious hackers. Trust SharkGate to not just be your security solution, but your digital peace of mind. With us, your website isn't just secure—it's Water-tight!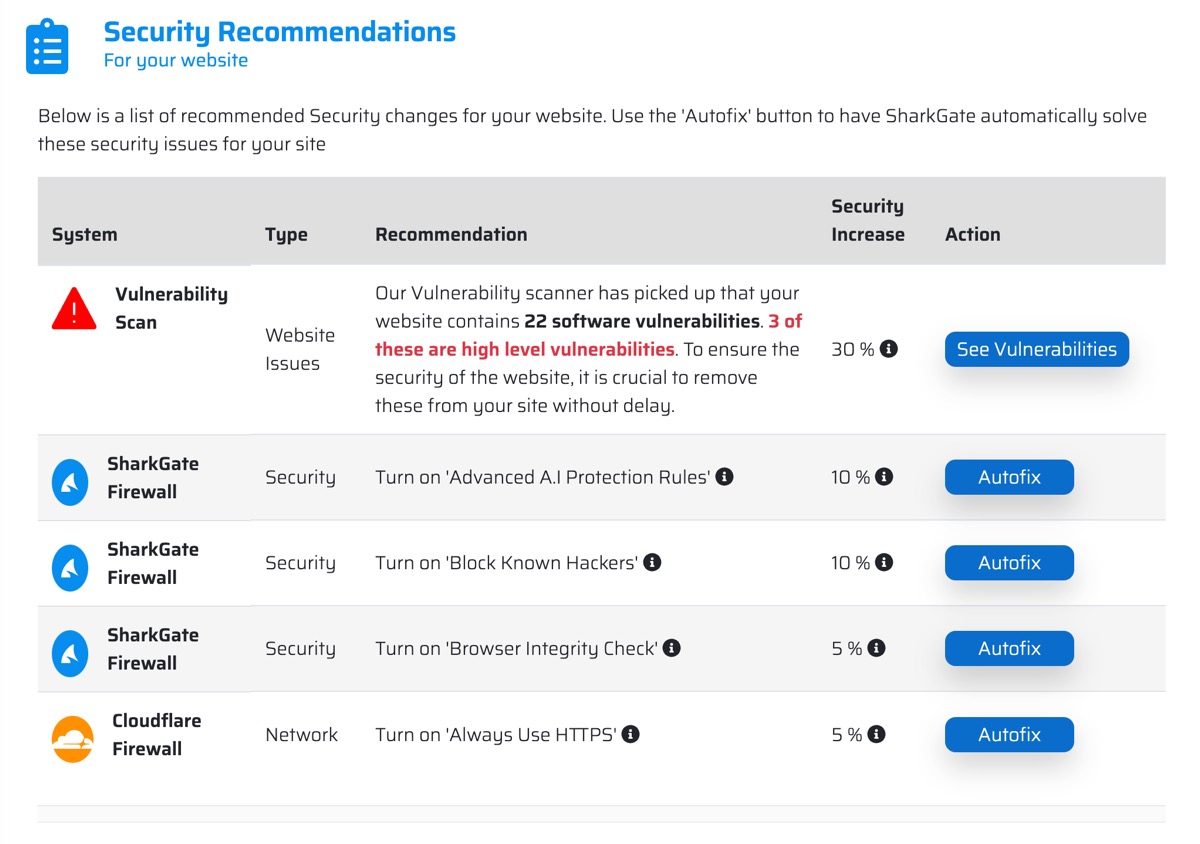 Continuous Vulnerability Scans
Our proprietary technology does more than simply guard your website; it offers a proactive approach to web security, constantly scanning your site for vulnerabilities. Instead of waiting for threats to occur, our system identifies potential weaknesses in your cyber defenses, providing you with an invaluable edge in today's evolving digital landscape.
A unique blend of intuitive design and cutting-edge technology, the SharkGate Firewall dashboard gives you real-time insights about your website's security health. By translating complex data into user-friendly reports, we ensure you are always aware of your site's status and can respond to issues with speed and precision. But we don't just highlight problems—we're here to help you solve them. Our platform is designed to empower you, providing not just awareness, but also actionable solutions to fix and eliminate vulnerabilities. With SharkGate Firewall, you're not just protected—you're ahead of the curve.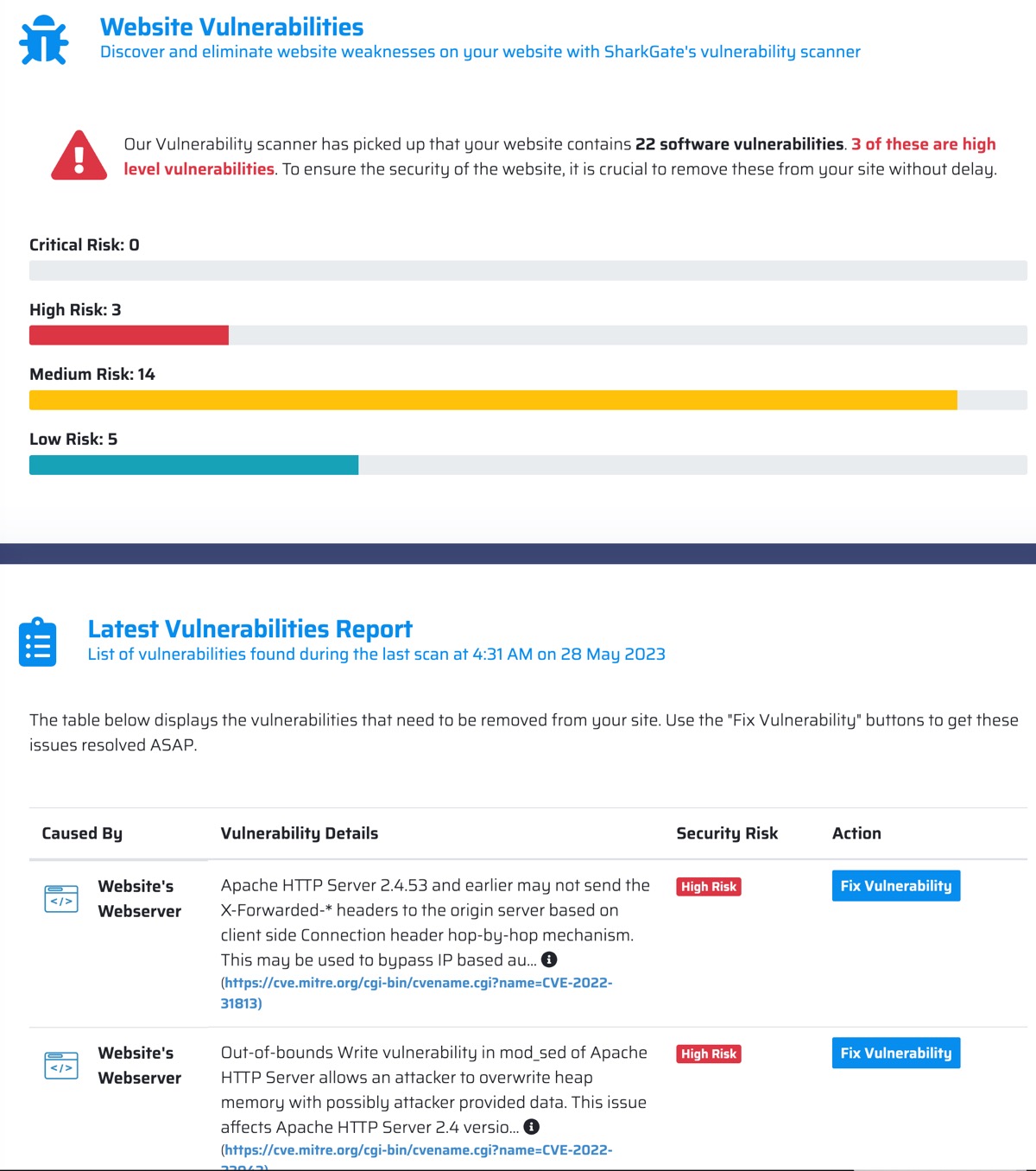 Get rewarded for having an infection-free website! SharkGate Token Rewards are now available for all sites protected by SharkGate Firewall and having a paid subscription. Users can see the tokens awarded to them on the SharkGate dashboard.
The SharkGate Token Rewards program is a unique approach to incentivizing businesses to take their online security seriously. By contributing anonymised hacker activity information to SharkGate, businesses are rewarded with SharkGate tokens. These tokens can then be used to access premium services offered by SharkGate.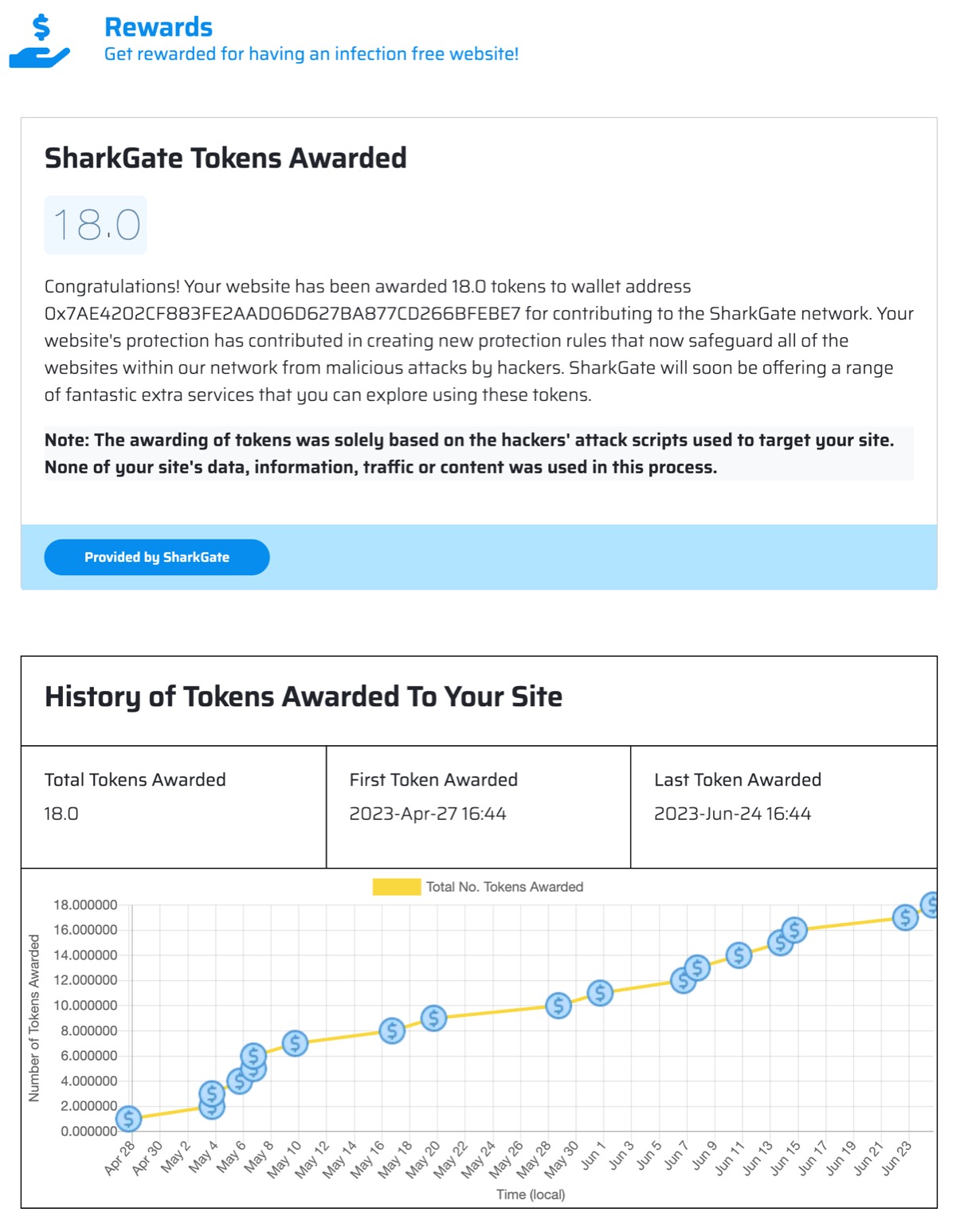 SharkGate's journey to solve the website cybersecurity crisis.
Check out our past victories and have a quick glimpse of upcoming key milestones.
Oct. 2018
OneHourSiteFix, the seed of SharkGate, established as one the World's leading malware cleaning & protection services
Dec. 2018
Obtained partnership for SharkGate to provide security services for one of Europe's largest legal organisations
Jan. 2020
Obtained initial seed funding From Business Finland
Now we can really get going!
Dec. 2020
Obtained further funding from Business Finland
We are on a roll!
Q4 2021
SharkGat AI 'Deep Sea' beats all competitors in independent tests
We knew it would!
Q3 2022
Funding agreement with Revenue Capital - Okay now we are ready to scale!
Q4 2022
Sharkgate hits milestone of protecting over 5000 sites
A great start!
Feb. 2023
SharkGate Threats API released
April. 2023
SharkGate Rewards and Vulnerability analysis launched
Nov. 2023
SharkGate is the Artificial Intelligence Blockchain Conference pitch winner 2023
A rising star in the cybersecurity space
Q2 2024
SharkGate hits milestone of protecting over 1 million sites
YES, WE ARE AMBITIOUS!
Our founder members have worked for over 20 years with a number of leading multinational companies to build and deliver the leading enterprise and cybersecurity systems in the industry. Cybersecurity is our passion, which is why we're constantly pushing the technology boundaries and have been attracting the best-hidden talent in the industry to make it happen.
"Great vision without great people is irrelevant."
– Jim Collins
Frequently Asked Questions
Below we've provided answers to some common questions. If you still have any further information needed please don't hesitate to get in touch using the contact form below.
Do I need to change my hosting company to take advantage of SharkGate™ protection?
SharkGate
2023-06-25T14:15:09+00:00
No, there is no need to change your current hosting company to leverage the protection provided by SharkGate™. This is because SharkGate operates on a cloud-based model, leaving your existing server setup and website untouched. The beauty of this system is that it not only safeguards your website but also secures everything your website runs on. Therefore, hackers are effectively kept at bay from your website as well as from any underlying infrastructure. So, rest assured, with SharkGate, you receive comprehensive protection without the hassle of changing your hosting company.
There is no denying there is a desperate need for a new way to protect sites from hackers. Think about how Google transformed the search economy. Think how Uber and Airbnb transformed their sectors and brought untold easy to customers lives. SharkGate will do the same for website cybersecurity. Further information to help participants understand the existing crisis and our solution to the problem can be found in our whitepaper