Ecosystem – Part 1
The SharkGate Ecosystem protects websites against current and next-generation cyber threats. The core components of the Ecosystem are:
SharkGate Security Plugin For Websites ("SharkGate Plugin")

SharkGate Website Threat Defence Database ("WTDD")

SharkGate blockchain-based AI ("Deep Sea")
These 3 components form the basis of our unique approach exclusively dedicated to protecting websites and constantly evolving the ecosystem for website cyber threat protection. This Ecosystem will finally provide the solution to protect websites against current and next-generation threats.
In this post we will describe the first of these parts "The SharkGate Plugin".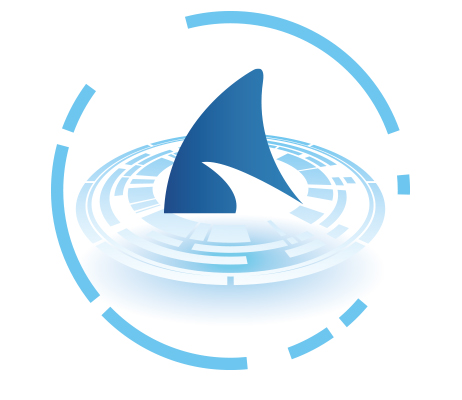 The SharkGate Plugin
SharkGate security application for websites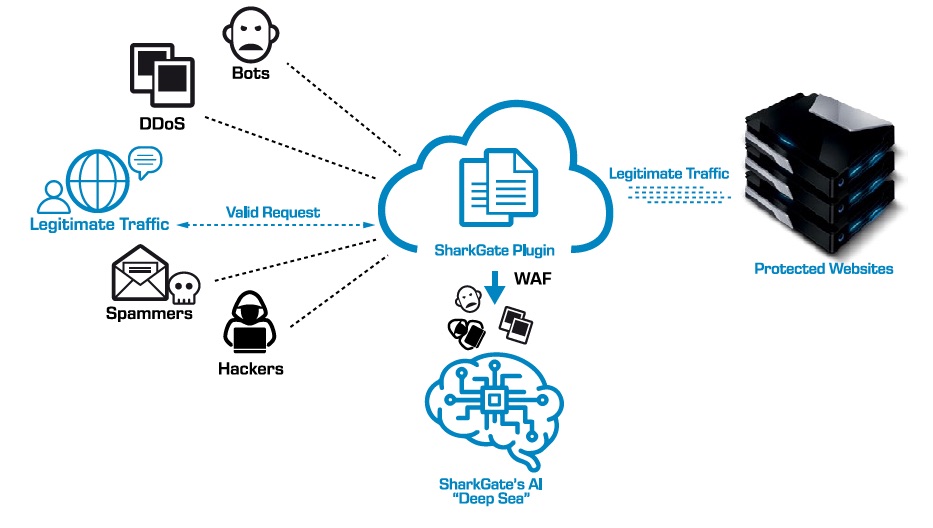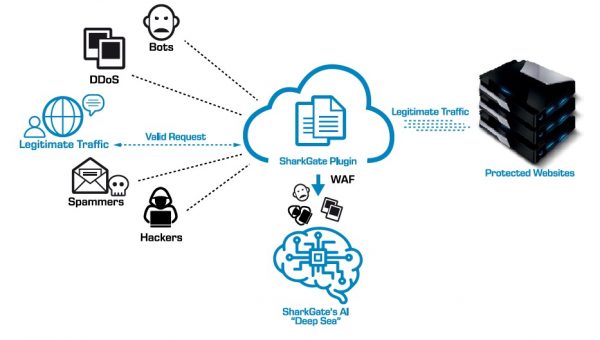 The SharkGate Plugin is an agent that helps identify and block attacks as well as acts as a provider of consolidated attack data and processing power to the Ecosystem.
The SharkGate Plugin is powered by SharkNet using the collective intelligence of the SharkGate AI ("Deep Sea") and the SharkGate Website Threat Defense Database ("WTDD").
From the moment it is first installed it provides a website with a very high level of hacker protection and then continually grows smarter and better at protecting against attacks as more traffic is analyzed.
As well as providing unrivaled hacker protection the plugin also works as an 'always on' malware identifier, continually monitoring in case any malicious infection is placed on the site. Our experience with the previous SharkGate cloud-based firewall (that has already protected tens of thousands of websites) is that it is key to still be monitoring a site regularly for infection even when it is behind a firewall due to issues such as cross-site contamination. This is when a site is negatively affected by neighboring sites within the same server due to poor isolation on the server or account configuration. Cross-site contamination is one of the greatest contributors to the shared hosting "secure or insecure" debate.
Easy to Install
The SharkGate protection for sites is packaged as an easy-to-install plugin, thus lowering the barrier to entry to protect a site. The plugins will be distributed via all the official plugin directories for all types of websites. Our first version of the plugin is a Cloudflare integrated application giving us an immediate direct sales channel to over 10 million websites.